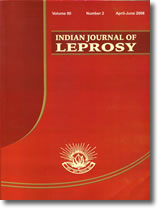 Indian Journal of Leprosy is one of the oldest peer reviewed journals of India, dedicated to publishing best research in the areas of leprosy and other mycobacterial diseases from all over the world.
It is published quarterly under the aegis of Hind Kusht Nivaran Sangh (Indian Leprosy Association), India
October to December 2016
RLEP PCR as a Definitive Diagnostic Test for Leprosy from Skin Smear Samples in Childhood and Adolescent Leprosy
R Kamal, R Dayal, K Gaidhankar, S Biswas, SB Gupta, N Kumar, R Kumar, R Pengoria, DS Chauhan, K Katoch, VM Katoch, PK Singh
Use of RLEP-PCR as a Molecular Tool and Definitive Laboratory Test from Skin Smear Scrapings for Early Diagnosis of Leprosy in Field Situations
F Naaz , K Katoch , PS Mohanty , DS Chauhan , VS Yadav , A Kumar , D Shakya , D Katara , Babbanjee , M Wasim , S Singh
A Cross Sectional Study of Deformities in Patients of Leprosy at a Tertiary Care Center of Western India
NR Patel and KR Modi
Trends in Profile of Leprosy Cases Reporting to a Tertiary Care Centre in Delhi during 2006-2015
V Relhan , S Ghunawat , A Tenani , S Mittal , VK Garg
Health Seeking Behavior of Leprosy Patients: A Hospital Based Study
S Balegar , DK Mishra , D Doshi , SB Singh , AK Singh
Hypothalamo-Pituitary Axis Suppression : A Risk Factor for Late Onset Bullous ENL ?
R Monteiro , I Bhat , Pratibha JP
Misdiagnosis of Lupus Vulgaris and Systemic Sclerosis as Leprosy: Two Case Reports
4 N Prabha , N Chhabra , A Bugalia , R Arora
Exacerbation Reaction in a Case of Lepromatous Leprosy: An Intrigue !
RR Misri , AB Bhole , S Yadav , VK Khurana , HK Kar
Inn Content