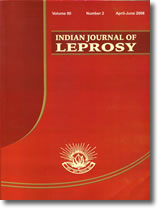 Indian Journal of Leprosy is one of the oldest peer reviewed journals of India, dedicated to publishing best research in the areas of leprosy and other mycobacterial diseases from all over the world.
It is published quarterly under the aegis of Hind Kusht Nivaran Sangh (Indian Leprosy Association), India

IAL Election Letter

IAL Nomination Form
Volume 85 Number 4 ( Oct - Dec)
Original Article
A study of histopathology of clinically normal appearing skin in the tuberculoid spectrum of leprosy
M Thomas
Original Article
Decompression of peripheral nerve trunks in leprosy prevents the development and progression of deformities?
S Husain
Original Article
Evaluation of hearing impairment in leprosy patients taking multidrug therapy
S Rawlani , CY Patil , R Bhowte , S Degwekar , S Rawlani , Chandak , S Rawlani
Original Article
Slit-skin smear in leprosy: lest we forget it !
VK Mahajan
Short Communication
Proceedings of the Indian Association of Leprologists (IAL) Workshop cum CME on leprosy
DGHS, Dr Jagdish Prasad
Invitation Letter
Announcement of IAL AWARDS to be given in 29th Biennial conference of IAL to be held at PGI Chandigarh, from 28-30th March 2014