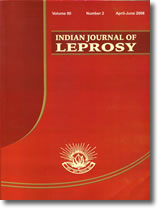 Indian Journal of Leprosy is one of the oldest peer reviewed journals of India, dedicated to publishing best research in the areas of leprosy and other mycobacterial diseases from all over the world.
It is published quarterly under the aegis of Hind Kusht Nivaran Sangh (Indian Leprosy Association), India

IAL Election Letter

IAL Nomination Form
July to September 2016
Functioning and Disability in Leprosy
MF Calixto , LHC Marciano , RBR Prado , SMT Nardi , T Marques
Evaluation of anti-bacterial activity of Rifapentine, Clarithromycin, Minocycline, Moxifloxacin, Ofloxacin and their combinations in Murine Model of Rifampicin Resistant Leprosy
P Joseph , J Ponnaiya , M Das , VS Chaitanya , S Arumugam , M Ebenezer
Evaluation of New Antibacterial Drugs and their Combinations in a Murine Model to Identify Short Duration Alternative Chemotherapy for Leprosy
S Arumugam , P Joseph , J Ponnaiya , J Richard , M Das , VS Chaitanya , M Ebenezer
Cutaneous Sarcoidosis Misdiagnosed as Leprosy. Report of Two Cases and Review of Literature
KN Chowdhary , R Rao , P Priya , M Valiathan , S Shetty , S Pai
Pityriasis Rosea Localized to the Skin Patches of Leprosy. A Wolf's Isotopic Response?
K Shilpa , B Leelavathy , K Kavya , DV Lakshmi , G Divya
Unilateral Cauliflower Ear due to Leprosy or Trauma - A Diagnostic Challenge
K Shilpa , B Leelavathy , DV Lakshmi , G Divya