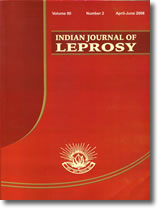 Indian Journal of Leprosy is one of the oldest peer reviewed journals of India, dedicated to publishing best research in the areas of leprosy and other mycobacterial diseases from all over the world.
It is published quarterly under the aegis of Hind Kusht Nivaran Sangh (Indian Leprosy Association), India

IAL Election Letter

IAL Nomination Form
JAN to MARCH 2015
Current Perceptions and Practices(KAP) about Leprosy among Leprosy Patients: A Comparative Study between High Prevalent & Low Prevalent Districts of West Bengal.
G Saha, NK Mandal and RN Dutta
Saliva as a Diagnostic Tool for Measurement of Total Antioxidant Capacity in Children with Leprosy and Born to Leprosy Parent.
V Patni , S Baliga and S Sawal
Unusual Presentation of Necrotic Erythema Nodosum Leprosumon Scalp: A Case Report
KD Barman , A Madan , VK Garg , K Goel and N Khurana
Lepromatous leprosy: An Unusual Presentation
SK Gupta , S Kaur , V Malhotra , AK Arora , N Sood and V Gupta
Does Leprosy Need a Stronger Surveillance System Now? A pointof view article
D Porichha
Tropical Disease Bulletin