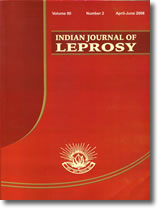 Indian Journal of Leprosy is one of the oldest peer reviewed journals of India, dedicated to publishing best research in the areas of leprosy and other mycobacterial diseases from all over the world.
It is published quarterly under the aegis of Hind Kusht Nivaran Sangh (Indian Leprosy Association), India

IAL Election Letter

IAL Nomination Form
Oct-Dec 2015
Efficacy of Steroid and Physiotherapy in Early Reported Lagophthalmos of Patient Affected with Leprosy. A Report from Tribal Dominated Leprosy Endemic State of India
KM Kamble , SV Gitte , RN Sabat
Dapsone: An Update
S Karjigi , SC Murthy , H Kallappa , MR Kusuma , B Aruna , YN Reddy
Correlates of Defaulting from MDT among Leprosy Patients
MS Raju, M Elkana, P Failbus, JP Palla, UK Hembrom, PS Rao
A Traditional NSAID Aspirin along with Clofazimine in Erythema Nodosum Leprosum Reaction: Study of Six Cases
PK Sharma and DK Singh
Erythema Necroticans - A Case Report
P Thangaraju , VC Giri , U Aravindan , V Sajitha and MK Showkath Ali
A Breast Lump in an Elderly Lady - Carcinoma or else ?
A Das and SK Das
Tropical Diseases Bulletin
Vol 112 Nos June-Dec 2015
PDr. Hariharan Srinivasan (1929-2015)
Indian Journal of Leprosy